F1B 600 Series | 1%RH Dry Cabinets
F1B 600 | 624L Dry Cabinet
The Dr. Storage F1B Series of Ultra Low Humidity Dry Cabinets have all the standard features of the F1 Series Cabinets but includes a number of upgrades. Improved humidity control to maintain an internal environment of 1%RH. Additional features include our new sliding drawer design with customizable drawer options and a build-in RH & temperature alarm in the display panel.
The F1B 1200 eliminates the oxidation of stored parts and is particularly useful in high tech manufacturing for storing SMT components, component reels, surface mount devices (SMD), electronic components, printed circuit boards (PCB) or precision metal parts. They can also protect miniature devices, pharmaceutical substance, biotic specimens, battery, crystal, IC package module, optical lens and scientific instruments.
All F1B Dry Cabinets are built to exceed the IPC/JEDEC J-STD-033 standards. Cabinets are supplied with an anti-static package, wheels (except the F1B-200 bench top), locking doors, colorful storage bins, decimal digital display, countdown calibration reminder and an RS-232 interface for data recording. Each model features Humidity Manager Software so that humidity and temperatures conditions inside the cabinets can be monitored and saved to the software. Colored graphs are drawn and the data can be used for validating processes and to show compliance to standards.
View our brochure and customize your cabinet with a variety of sliding drawer setup options. F1B Brochure: F1B Series – Drawer Options – Brochure
Upgrade your F1B Series Dry Cabinet with a Dual Sensor Data Logger to record temperature and relative humidity data of the cabinet interior but also the ambient environment.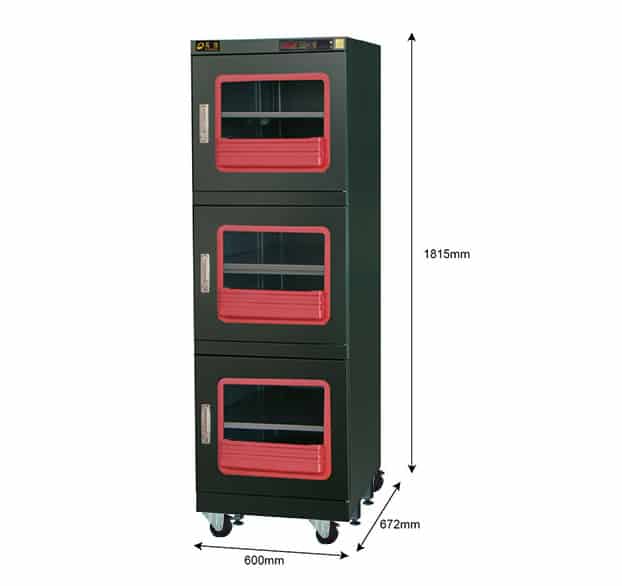 Cabinet Specs:
External Size(in): W23.62 X D26.45 X H71.45
Internal Size(in): W23.54 X D25.27 X H63.97
External Size(mm): W600 X D672 X H1815
Internal Size(mm): W598 X D642 X H1625
Capacity: 624L
Drawers: 3
Storage Bin: Red x 3, Gray x 1, Yellow X 1
Power Consumption: Ave. 83W/h, Max. 285W
Color: Black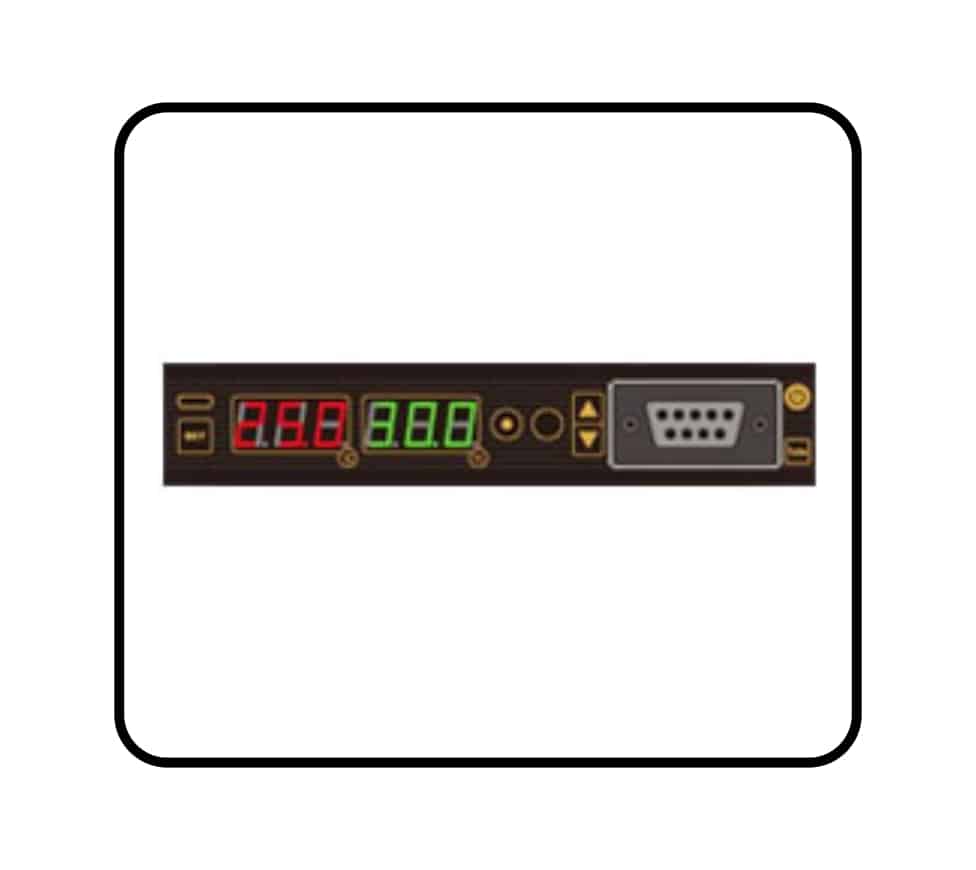 LED Display Control Panel
Simultaneously display temperature & humidity values.
RS-232 port for data collection.
Display Precision:
±2%RH; ±1℃ (at <10%RH, 25℃)
Built-in flash & buzzer alarm.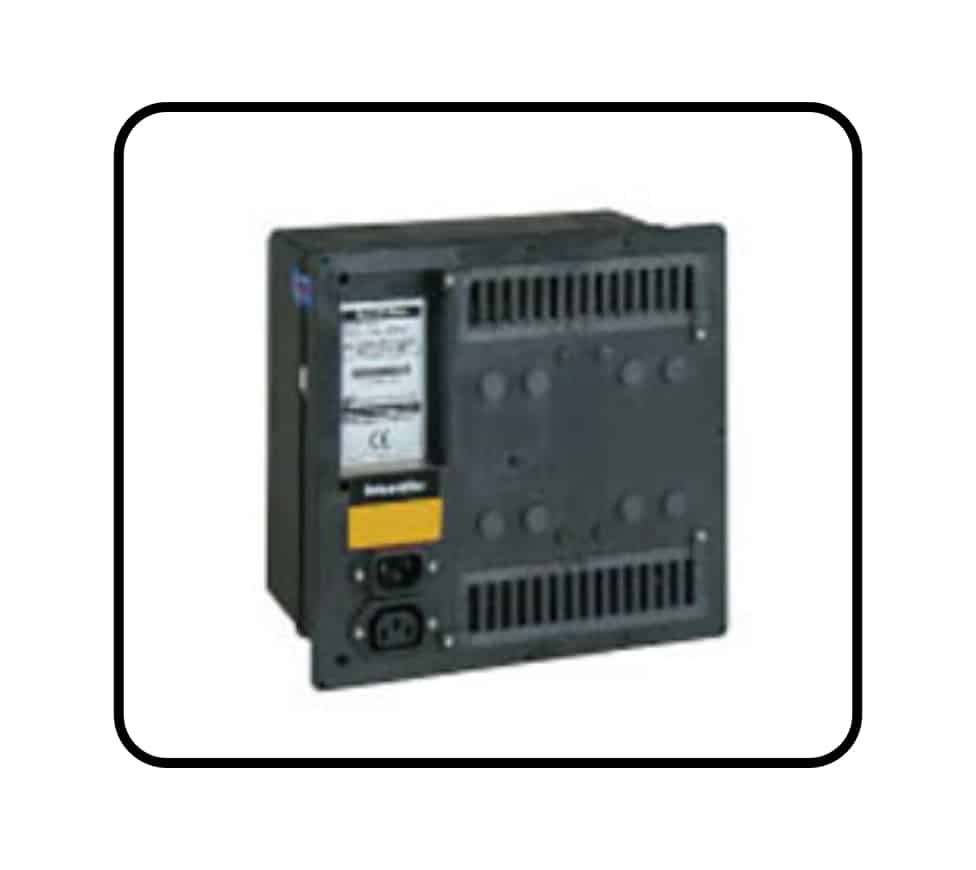 Reliable dehumidifier
PPS material: 230°C heat tolerance to avoid any deforming or melting of dehumidifiers.
Modular design for easy maintenance & painless upgrade.
Silent, drip less, frostless operation.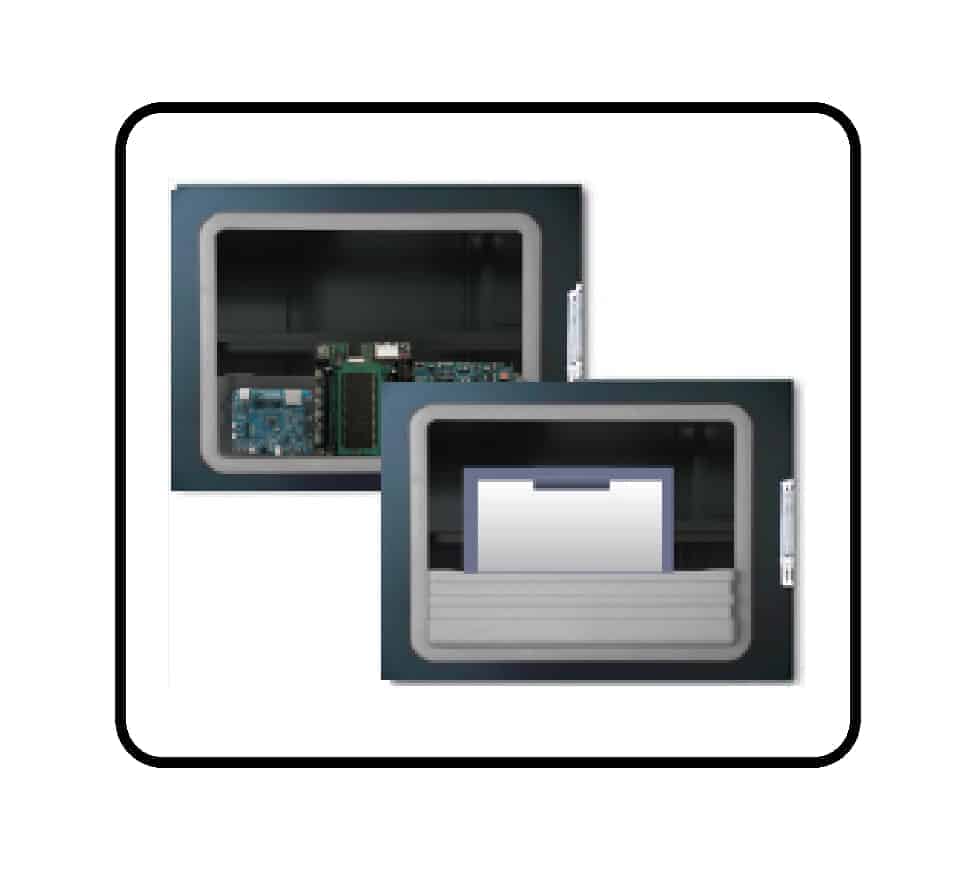 Storage Bins
Inside Bin: Store and retrieve important items quickly to shorten the door opening time.
Outside Bin: Ideal for work sheet & quality instructions for better QA management.
Maximum loading of bin: 5Kgs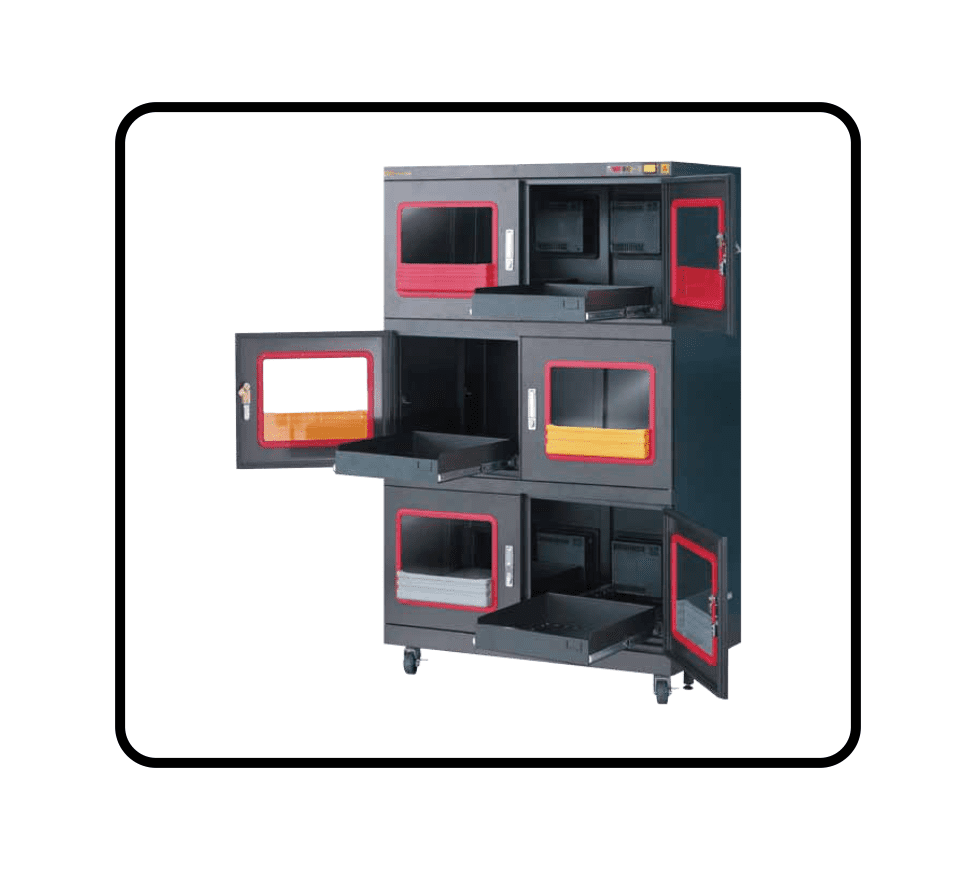 Sliding Drawers
All of our F1B Dry Cabinets feature our new sliding drawer design which provides greater ease of access, improved tracking ability and customizable drawer options to meet any storage requirements.
Contact Us For Pricing or More Information